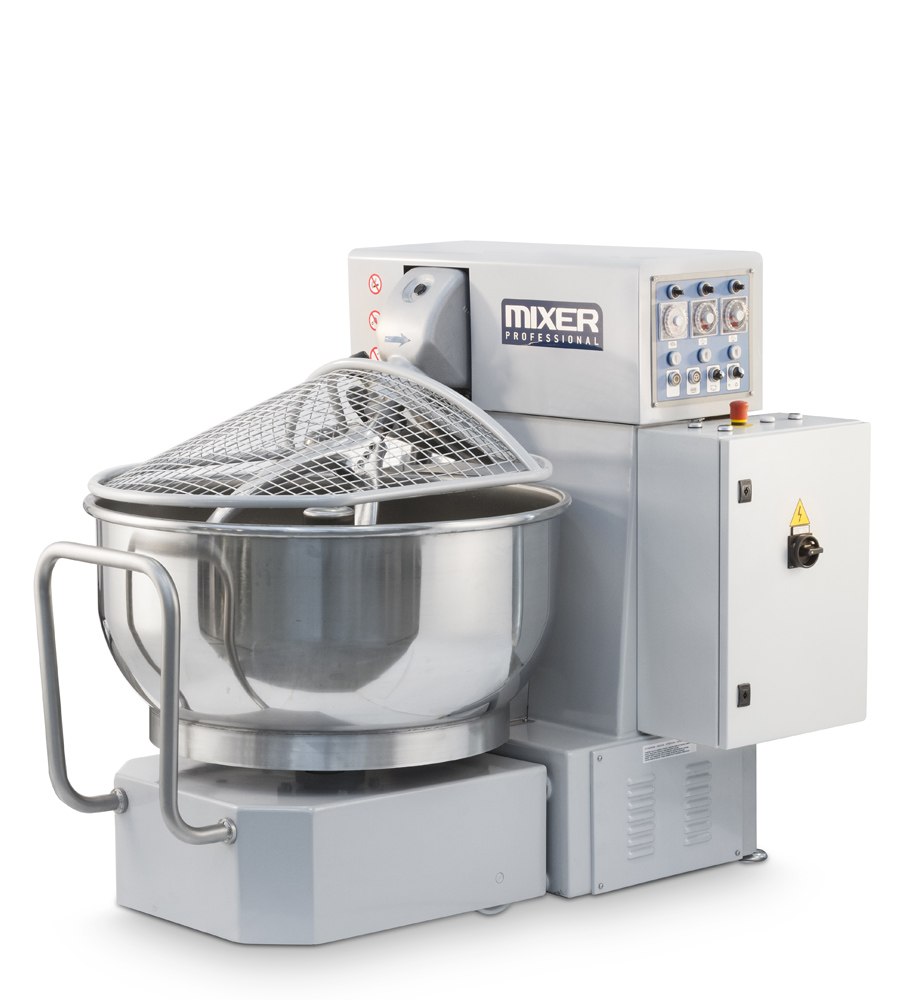 AOE / AOTE
FORK MIXER FRENCH TYPE WITH REMOVABLE BOWL/TROLLEY
technical data

Model
A0E 230
A0E 330
A0E 440
A0TE 230
A0TE 330
A0TE 440
Dough capacity (min./max) *

kg

25/120
35/180
45/250
25/120
35/180
45/250
Bowl volume

lt

230
330
440
230
330
440
Motors power 1st /2nd speed

Kw

3.7/5.2
3.7/5.2
5.7/7.2
4.0/5.7
4.0/5.7
4.6/6.9
Height from bowl edge

mm

A

820
870
985
820
870
985
Total depth

mm

P

1410
1470
1670
1410
1470
1670
Total width

mm

C

1000
1070
1240
1000
1070
1240
Height

mm

H

1260
1260
1540
1260
1260
1540
Net weight

kg

580
610
800
660
690
860
AOE Free bowl.
AOTE Motorized bowl.
*: capacity based on the percentage of liquid/flour = 60%
All data are to be considered as nominal, MIXER srl reserves the right to make any changes to the product and/or technical specifications without notice.
standard features

• Painted steel rack raised from the ground on 4 adjustable feet.
• Fork made of high resistance aluminium, can be lifted by hand.
• Stainless steel bowl.
• Two-speed fork motor.
• Movement is transmitted by means of pulleys and V-belts with reduction gear in oil bath.
• Adjustable mechanical brake on bowl.
• Bowl carrying trolley on wheels.
• Release/connection of trolley by hydraulic cylinder commanded by dedicated control unit.
• Manual lifting/descent of head.
• Electric commands on side of head, two timers, setting of work time with automatic shift from 1st to 2nd speed.
• Opening/closing control with hold-to-run buttons.
• Two independent motors for fork and bowl. (AOTE).
• Two-speed motors. (AOTE).
• Movement is transmitted to bowl by clutch wheel mounted on gear motor. (AOTE).
on request

• Rack and guard in stainless steel with micro-shot peening treatment.
• Fork in stainless steel.
• Electric panel on left.
• Electric panel separate from the machine body (max. 2 m).
• Couple of connections for lateral discharge lifters.
• Special voltage/frequency.
• Packaging in wooden crate.
For further information
contact us