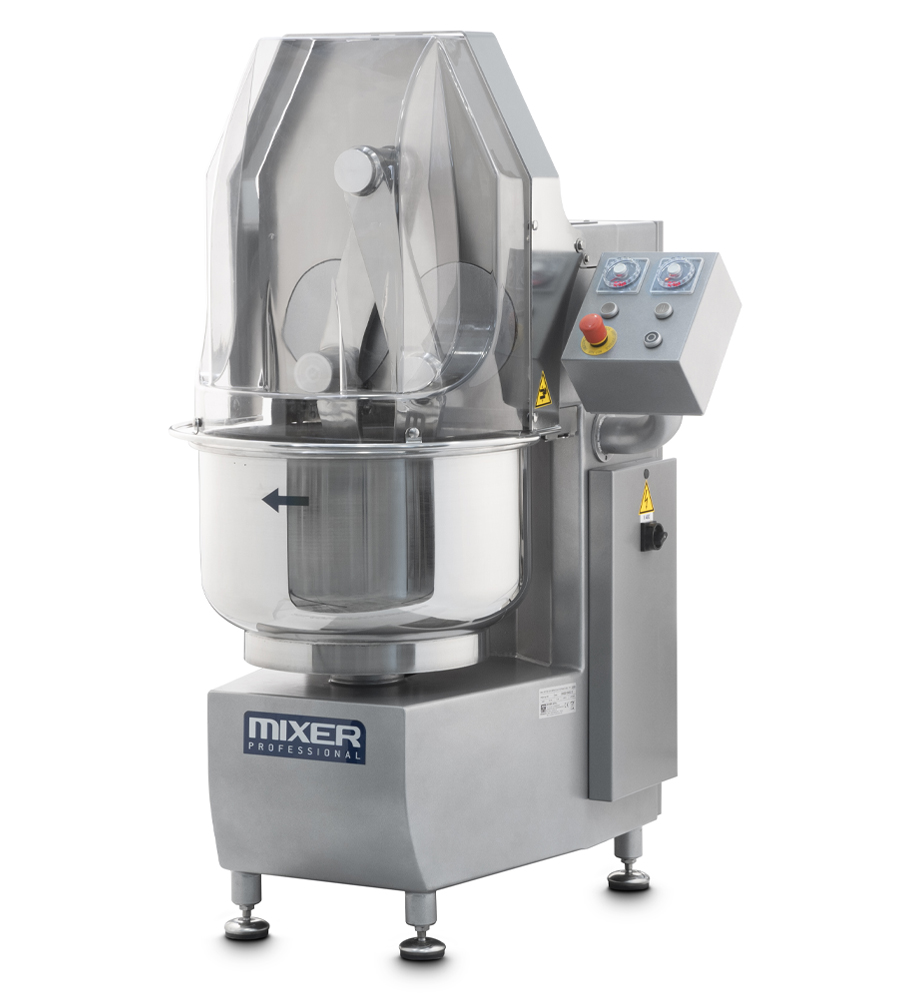 IBT EVO
BEATER ARM MIXER
WITH FIXED BOWL
technical data

Model
IBT 50
IBT 100
IBT 130
IBT 150
Dough capacity (min./max) *

kg

5/45
8/90
10/130
10/150
Bowl volume

lt

70
150
200
230
Motors power 1st /2nd speed

Kw

1.5/2.2
3/4.4
3/4.4
3/4.4
Height from bowl edge

mm

A

750
890
910
960
Total depth

mm

P

770
1000
1110
1110
Total width

mm

L

750
860
910
910
Height

mm

H

1380
1650
1700
1700
Net weight

kg

380
610
640
655
*capacity based on the percentage of liquid/flour = 60%
All data are to be considered as nominal, MIXER srl reserves the right to make any changes to the product and/or technical specifications without notice.
standard features

• Painted steel rack raised from the ground on 4 adjustable feet.
• Bowl and arms made of stainless steel.
• Guard made of PETG.
• Two-speed motor for arms and bowl.
• Movement transmitted by pulleys and V-belts with gear motor in oil bath.
• Protection against overload and overvoltage.
Command panel IBT/STANDARD
• Two timers for the setting of work time with automatic shift from 1st to 2nd speed
• Start button
• Emergency stop button
on request

• Machine mounted on wheels.
• Uprated tools speed (70rpm).
• Stainless steel structure.
• Touch-screen panel
• Speed variation through inverter drive
• Water dosing device
For further information
contact us