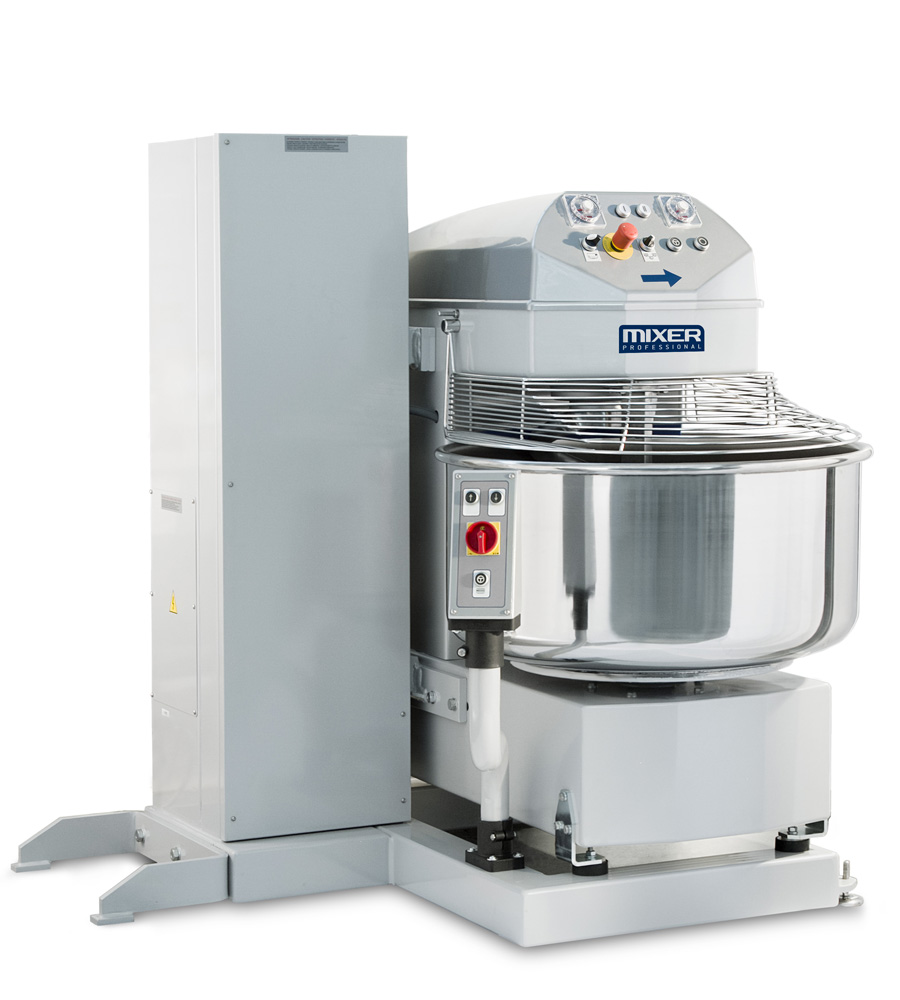 ASM EVO RS
SPIRAL MIXER AUTO-DUMPING
ON DIVIDER
technical data

Model
ASM RS 100
ASM RS 130
ASM RS 160
ASM RS 200
ASM RS 250
ASM RS 300
Dough capacity (min./max) *

kg

8/100
10/130
10/160
10/200
15/250
20/300
Bowl volume

lt

155
205
260
285
380
470
Motors power 1st /2nd speed

Kw

2.9/5.3
3.6/6.3
4.6/7.4
4.6/7.4
5.4/8.6
6.8/12
Height from bowl edge

mm

C

1850
1820
1820
1820
1760
1720
Total depth

mm

E

1300
1320
1320
1500
1550
1600
Total width

mm

G

1170
1220
1320
1320
1360
1410
Height

mm

A

1700
1700
1700
1700
1700
1700
Net weight

kg

990
1050
1220
1230
1250
1400
*: capacity based on the percentage of liquid/flour = 60%
All data are to be considered as nominal, MIXER srl reserves the right to make any changes to the product and/or technical specifications without notice.
standard features

• Painted steel structure, raised from the ground by 4 adjustable feet.
• Bowl, spiral, contrast column, closed guard and flour screen made of stainless steel.
• Two independent motors with 2 spiral and 2 bowl speed.
• Bowl thrust roller.
• Front control with 2 timers. Setting of work time with automatic shift from 1st to 2nd speed.
• Movement transmitted by pulleys and V-belts.
• Selector to reverse bowl motion.
• Impulse buttons to rotate bowl in order to remove dough (on machine and on lifter).
• Possibility to dump the bowl on divider (1,7 m approx.).
• Hydraulic lifting system.
• Dumping control with hold-to-run buttons.
on request

• Uprated tools speed (205rpm).
• Stainless steel structure with micro shot-peeing treatment.
• Computer with 7'' touch-screen able to program 100 recipes and work in manual or automatic mode.
• Spiral with oversized bar.
• Uprated spiral motor.
• Contact probe for temperature measurement.
• Bowl lid made of stainless steel with airtight polyethylene rim.
• Lateral chute for very soft dough.
• Scarper for vertical side of bowl.
• Special voltage/frequency 230/50/3 – 220/60/3 – 380/60/3.
• Wooden crate packaging.
For further information
contact us