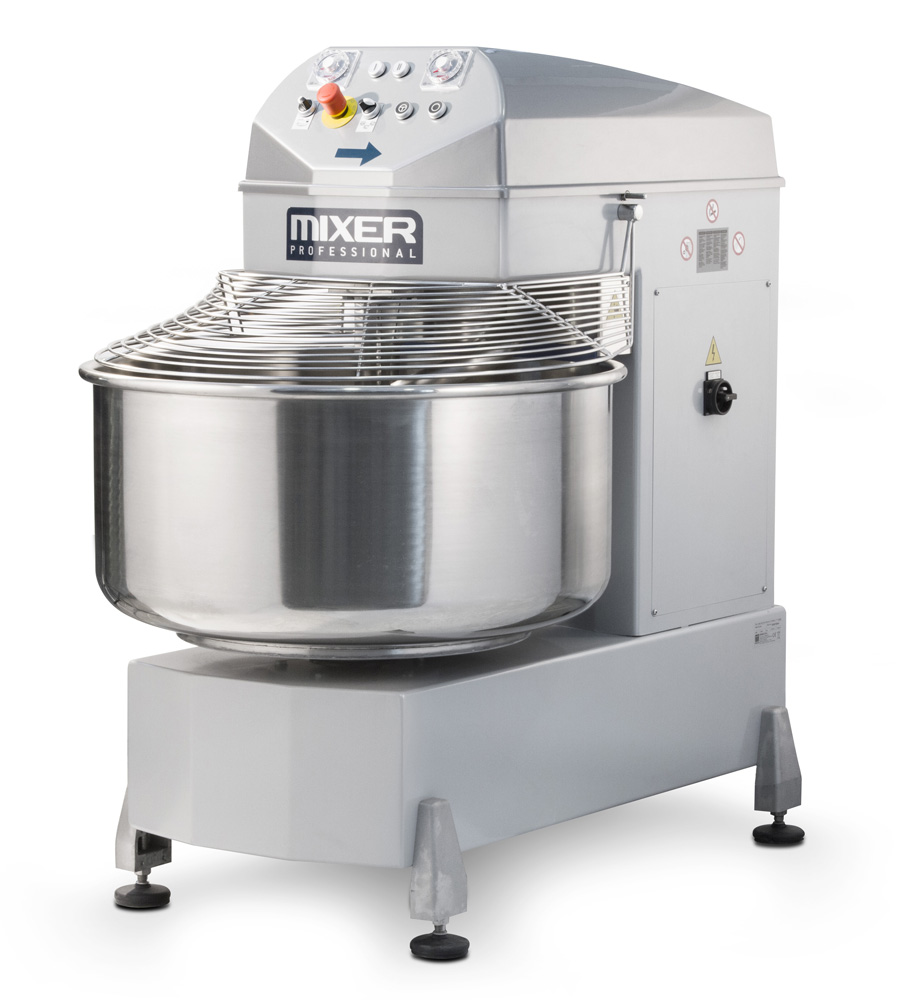 ASM EVO
SPIRAL MIXER
WITH FIXED BOWL
capacity (kg)
60
80
100
130
160
200
250
technical data

Model
ASM EVO 60
ASM EVO 80
ASM EVO 100
ASM EVO 130
ASM EVO 160
ASM EVO 200
ASM EVO 250
Dough capacity (min./max) *

kg

5/60
8/80
8/100
10/130
10/160
10/200
15/250
Bowl volume

lt

100
135
155
205
260
285
380
Motors power 1st /2nd speed

Kw

2.35/3.25
2.9/5.3
2.9/5.3
3.6/6.3
4.6/7.4
4.6/7.4
5.4/8.6
Height from bowl edge

mm

A

890
900
955
950
927
957
990
Total depth

mm

P

1040
1190
1190
1275
1460
1460
1565
Total width

mm

L

635
745
745
845
945
945
1045
Height

mm

H

1360
1415
1415
1470
1500
1500
1500
Net weight

kg

300
390
395
460
650
650
680
*: capacity based on the percentage of liquid/flour = 60%
All data are to be considered as nominal, MIXER srl reserves the right to make any changes to the product and/or technical specifications without notice.
standard features

• Painted steel structure raised from the ground on 4 adjustable feet.
• Bowl, spiral, contrast column and guard made in stainless steel.
• Two independent 2-speed motors for spiral and bowl.
• Movement is trasmitted by pulleys and V-belts.
• Bowl thrust roller.
• Frontal control with two timers.
• Setting of work time with automatic shift from 1st to 2nd speed.
• Selector to reverse bowl.
• Impulse button to rotate bowl for product removal.
• Selector to activate second bowl speed.
on request

• Uprated tools speed (205rpm).
• Stainless steel structure with micro shot-peening treatment.
• Computer with 7" monitor (able to program 100 recipes and to work in manual or automatic mode).
• Spiral tool with oversized bar (not available on ASM 60 EVO).
• Spiral uprated motor (not available on ASM 60 EVO).
• Dough temperature probe.
• Bowl lid made of stainless steel with airtight polyethylene rim.
• Bowl scraping device.
• Machine mounted on wheels (2 fixed rear wheels and 1 front pirouetting wheel).
• Special voltage/frequency 230/50 – 220/60- 380/60.
• Packaging in wooden crate.
For further information
contact us